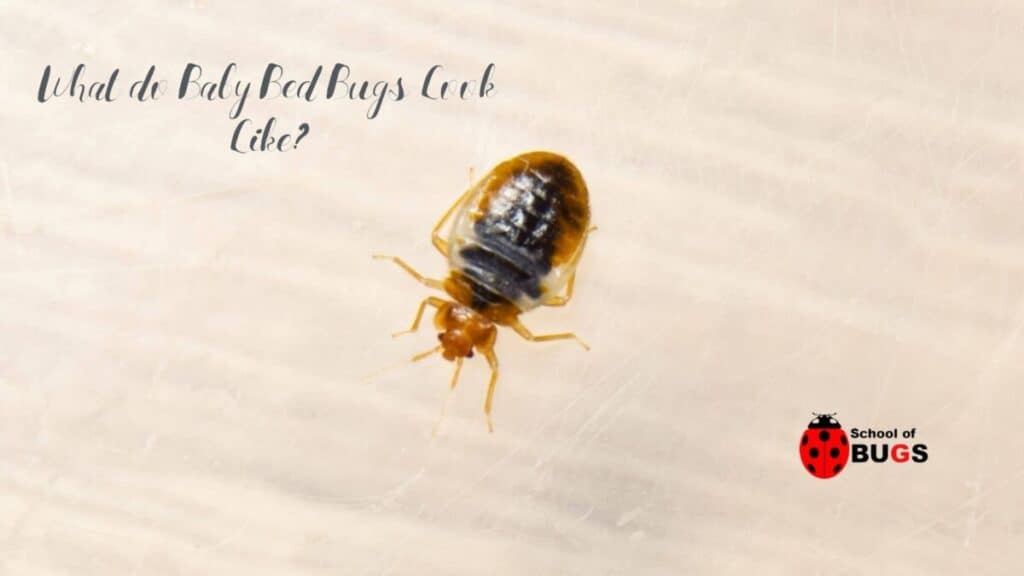 If you thought it was hard to see and identify bed bugs, wait until you get a look at baby bed bugs. Of course, if you can't see the adults, you won't be able to see the babies either.
Bed bugs go through five stages of development, starting at the egg stage and ending at the adult.
A baby bed bug is essentially a first-stage larva, roughly ¼ of the size of an adult, and a much lighter, almost reddish, brown coloration.
That's when they've fed and a baby bed bug has to feed before it gains color. Unfed baby bugs are almost completely clear.
The life cycle of the common bed bug
The parts of a first-stage bed bug
How bed bugs feed
How bed bugs reproduce
How to know what a bed bug egg looks like
How to tell if you have an infestation
How to eliminate the bed bug life cycle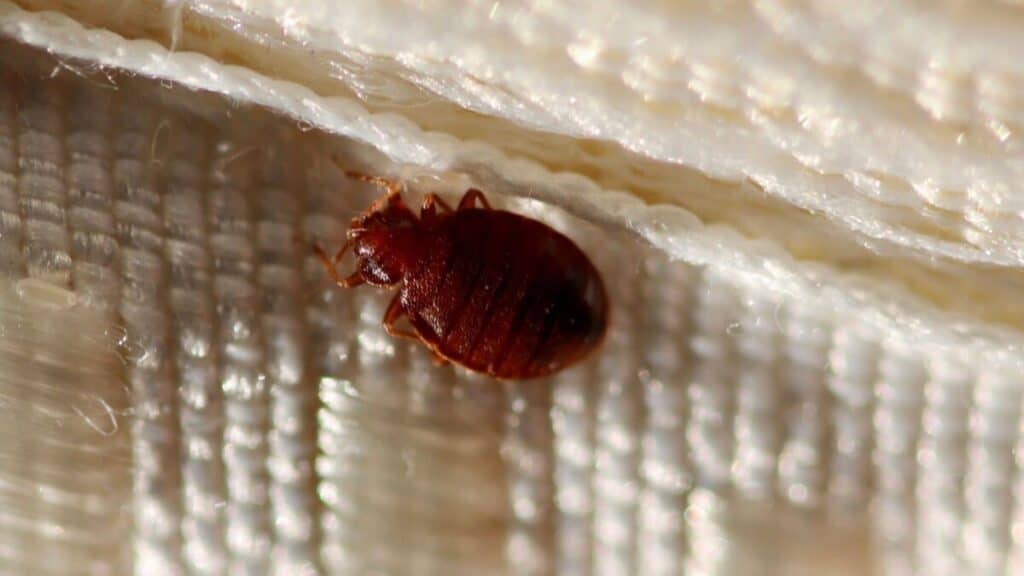 What is the Life Cycle of a Common Bed Bug?
Of course, everything starts with the female laying eggs. She will lay anywhere between 200 and 250 eggs in her lifetime and the average lifetime of a female bed bug is about one year.
If you have ten females in your room, that's anywhere between 2,000 and 2,500 eggs in a single year.
That's a pretty staggering number and it just goes to show how rapidly a few bed bugs can turn into a full-blown infestation.
Egg Stage
The bed bug egg is extremely tiny—about 1mm in length. They are usually white, so if you have white bed covers or light-colored bed covers, it will be very difficult to spot them.
If you have dark bedding, it's easy to think that a bed bug egg is nothing more than a grain of sand or lint on the bed.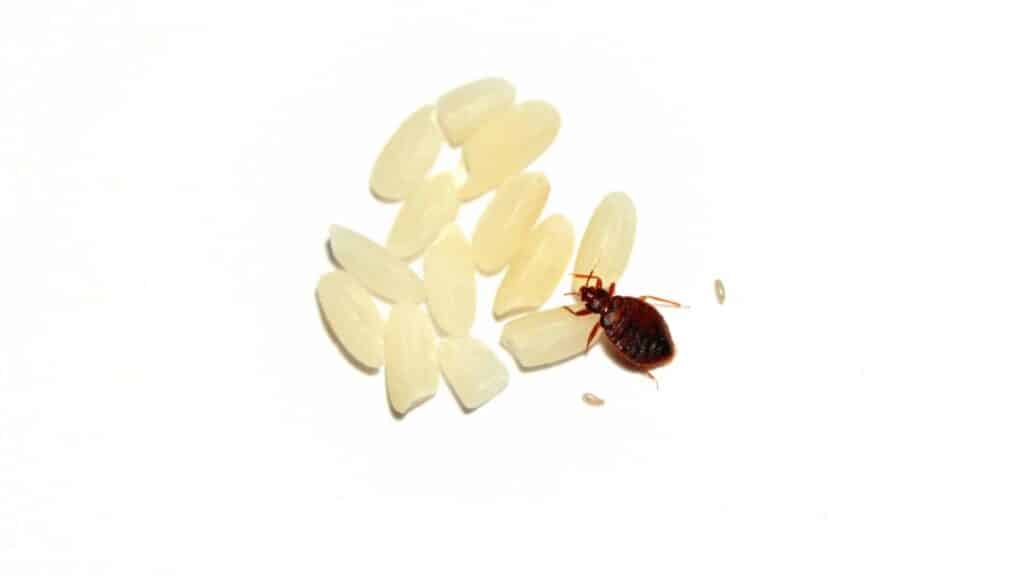 A female lays more than one at a time, however, so it will look like a tiny pile of sand. The eggs will remain as they are for a full two weeks—then the first-stage larva emerges.
Bed bugs don't go through a "larva" stage insofar as people are familiar with. They emerge from the egg as they are and only grow from there.
First Stage
The bed bug is about 1.5mm in length and is mostly clear or transparent. They can live for nearly three months before they have to feed for the first time.
Bed bugs are highly resilient insects and even adults can go a very long time without feeding.
The first stage larva will not grow and take on color until it feeds. Once it has fed for the first time, it will advance to the second-stage larva.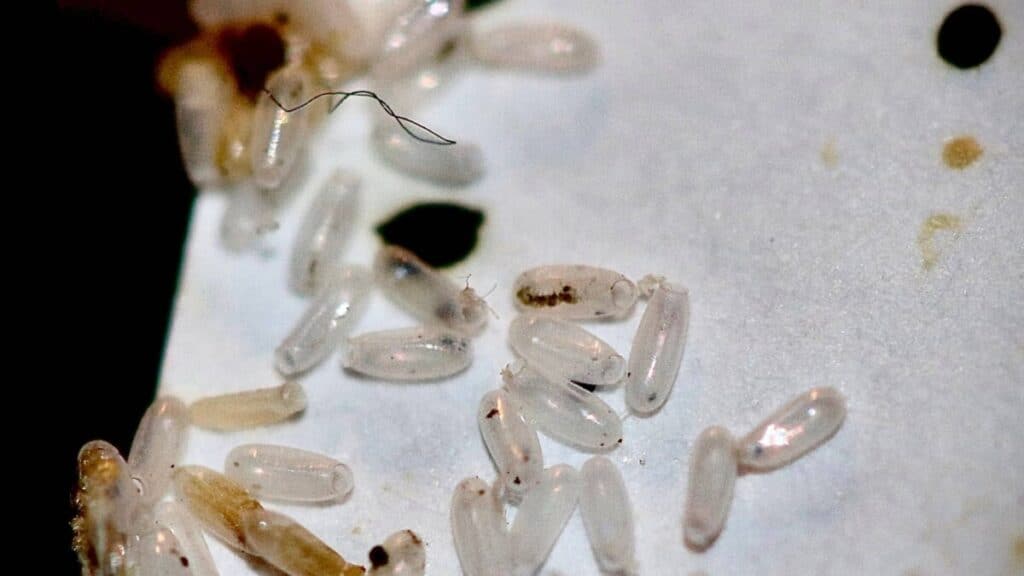 Second Stage
The second-stage larva is roughly double the size of the first stage. Like the first stage, it cannot advance in terms of growth until it had another meal. Once the second stage has its meal, it will molt, advancing to the third-stage larva.
Third Stage
A third-stage larva is about 2.5mm in length. It looks a little different than the second stage, after emerging from the molting process.
It's a little lighter in color with a darker spot along its abdomen or on the tip of the abdomen. Like the previous stages, it has to have a blood meal, and then it will molt.
Fourth Stage
The fourth stage bed bug is about 3mm long and a little darker than it is when it's in its third stage. Again, it needs another blood meal before it will molt.
Fifth Stage
In the final stage before adulthood, the fifth stage bed bug is about 4.5mm long, and, once again, it has to take another blood meal before it molts.
Adult
An adult bed bug emerges from the fifth-stage molt as a full-grown bed bug, measuring about 5.5mm. This is as large as it will get and it's a brown color, with lighter brown patterns across a very large abdomen.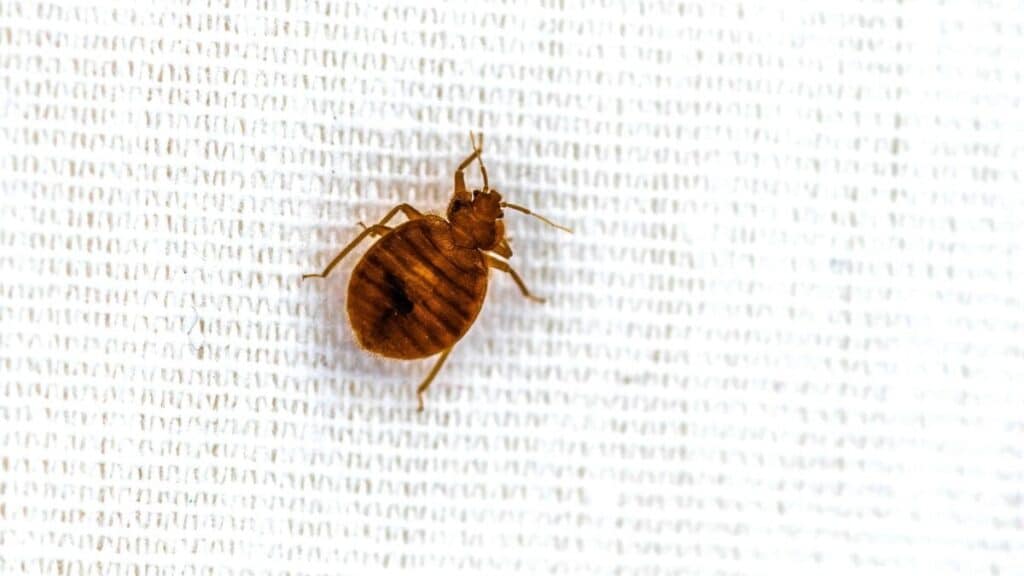 What are the Parts of a First Stage Bed Bug?
The first stage, or baby bed bug, has all of the parts you expect to find on a full-grown, adult bed bug. The only difference is that first-stage bed bugs are much smaller than their adult counterparts.
Head
Abdomen
Wing Pad
Pronotum
Legs
Antenna
Since a first-stage bed bug has to feed in order to molt and grow into the second stage, all of the feeding mechanisms and capabilities are there to get started. This includes the sucker that's part of the bed bug's mouth.
This sucker is their straw and after they gnash their way through your outer layers of skin, they will insert their little suckers and draw blood into the mouths.
As they drink, their bodies turn the red-brown color you expect to see when you look at a bed bug. Actually watching it happen is a little disconcerting.