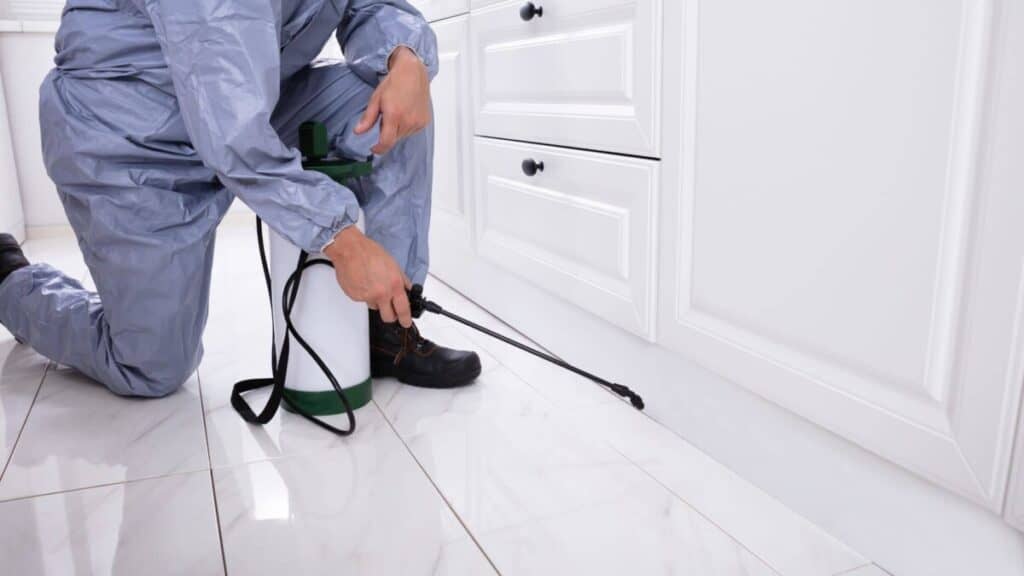 Is there anything worse than waking up and finding an army of ants invading your kitchen? Or, you wake up in the middle of the night, walk into the bathroom and turn on the light only to see a large number of cockroaches in the middle of the floor. I hope you don't have to face such situations, but they do happen very often!
The tolerance to pests varies from person to person, and not everyone has the courage to try a DIY method. However, there is nothing wrong with doing it yourself. I do encourage you to try some of the simple natural methods for dealing with pests you can find on this website, among other places.
See for example:
How to Get Rid of Tiny Black Bugs on My Plants
How to Get Rid of Tiny Grey Bugs in My House (And What are They?)
How to Get Rid of Tiny Yellow Bugs in Your House (and What Bugs They Are)
How to Get Rid of Brown Bugs in the House?
However, the problem is, DIY treatments don't always work. It's not your fault, and it doesn't mean these treatments are never effective. Sometimes, the scope of the problem is simply beyond what you can do yourself.
And when this happens, it's time to call in the professionals. However, not every pest control company is equally good and reliable.
How do you know which one to choose? Go through these 10 points before making your choice, and you should be able to hire professionals that will deal with your pest problem effectively.
#1 Company History & Credentials
When you decide it's time to call in the professionals, the first step will be scoping out the options in your area. Once you've found out which companies offer such services choose a couple that look the best and check them out thoroughly.
You'll want to find out anything about the company that you can. The website (if they have one) is always a good place to start. How long have they been in business? The longer the better, of course. If the pest control company you are looking at has many years of experience, that means they know what they are doing. What does the website look like? Do they appear knowledgeable? These are all important signs.
Moreover, pest control is no joke – depending on the job in question, dangerous chemicals might be used and you want the people to do it to be properly educated. This means the company should be licensed. The regulatory body that issues these licenses is different in every state, but there is always one. Any pest control company you work with should also be properly insured.
#2 Knowledge: Do They Have Answers to Your Questions?
This one might not be so easy to check, but you should have a general feeling that the people who work at the company of your choice are knowledgeable and trustworthy.
The first point of contact is often the website of the company, which might or might not offer all the information you need.
Second, you can give them a call to get the infos you need. Pay attention to how the person on the other side reacts. Do they have all the answers? Can they explain the things you are concerned about? If they do not know, can they find out? You don't want any vague answers because, again, pest control is no child's play. We are talking about the safety of your own home here!
#3 Do They Offer the Right Services?
As you can see on School of Bugs, there are many kinds of insects that can invade your home. Not every company is prepared and licensed to deal with all of them. Therefore, you should also check out or ask about the specific service you need.
On top of that, various companies offer different pest control plans and long term service options. If one of those is right for you will depend on your situation, but make sure to think it over and see who offers the best value for money.
If you are tempted to get a long-term contract because it seems like a better option, make sure to read it thoroughly, even the fine print. There might be a variety of exceptions and inclusions hidden in there, so make sure to know what you are getting into.
#4 Check the Reviews
Just like with anything else in this day and age, it is a good idea to check the online reviews for the pest control company you are about to hire.
Do they look good? There should be lots of good reviews, for sure, but also pay attention to the ones that give less than 5 stars. Less than a perfect score does not have to be a deal-breaker. Mistakes happen, and there can also be many unexpected problems when it comes to pests. But, read through these reviews and see what the faults were and how the issues were resolved. This can give you an idea of whether you can trust the company or not.
Of course, online reviews aren't everything. They might as well be fake and there is no way you could ever know. If someone you know had good experiences with a pest control company, definitely take their experience into consideration as well.
#5 The Technicians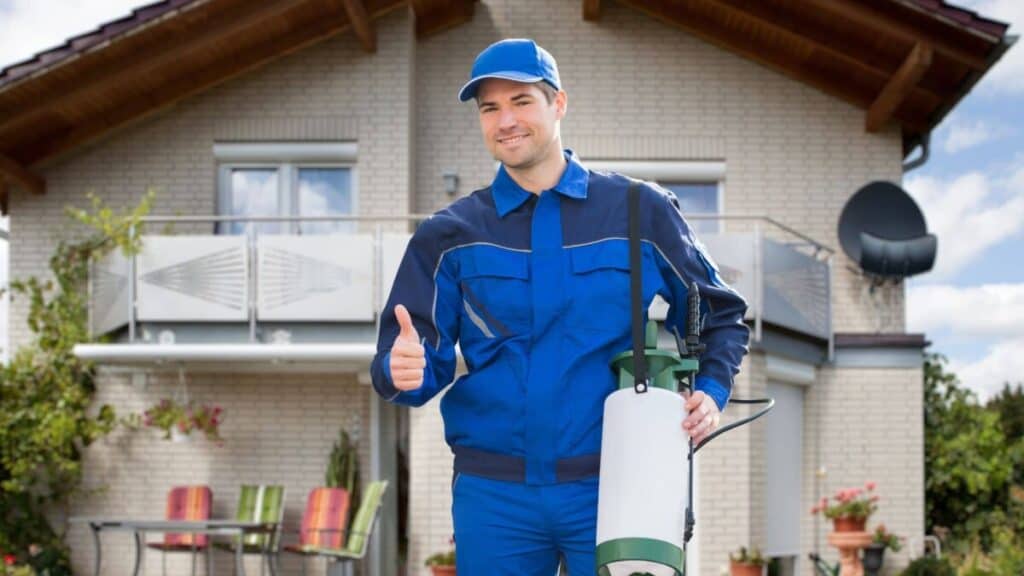 Typically, you won't see the pest control employees who do the actual extermination before they arrive at your home to do an inspection or start the treatment. But when they do, they must look trustworthy and like they know what they are doing. In other words, they should be able to discuss the plan of action and answer your questions if you have some.
But, what you can ask about before you agree to anything is how much training the employees go through.
It might feel like you are asking too many questions at this point, but don't be ashamed. You have the right to know who you are letting treat your home. Typically, each pest control technician will need to have a license as well, that certifies they have gone through the necessary training. This will depend on where you live, though, so make sure to check the local regulations.
#6 Do They Offer a Complimentary Inspection?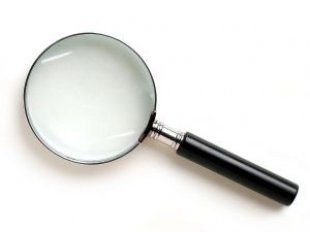 Every pest control service should start with an inspection. Without it, how would the exterminators even know what they need to do? Many companies these days offer free inspections, and that's always a good sign.
You might think you know what you are dealing with (i.e. you've seen a roach or a bed bug), but a professional can do a thorough examination and figure out the extent of the problem. Pests are often very good at hiding.
As a plus, you can get a feeling about how the pest control company operates during the inspection. Do they look like they know what they are doing? Have they checked everything thoroughly? Can they give you a clear treatment plan after the inspection? That's all good to know before signing up for anything.
#7 Is There a Guarantee?
Pest control treatments don't always work the first time around. Depending on the issues at hand, there are many things that could go wrong. The pests could come back, the scope of the problem might be bigger than originally thought, and so on…
If the pests do start appearing again, it doesn't necessarily mean that the pest control company is bad. These things happen. But they should be willing to come back and fix the issue. Without additional costs.
But how could you know if they are willing to do that? You can only count on it with a guarantee. So make sure to check if the company offers a guarantee on their services and what are the exact conditions of the guarantee.
#8 Get a Quote
Price is an important factor when choosing any service. When choosing which pest control professional to hire, it's also important, but it's not everything.
One complicating factor is the fact that it can be difficult to calculate the exact price. The first thing you do should be getting an estimate. You can usually get an estimate from the customer service when calling a company. This will give you something to work with when comparing companies, but an estimate is not binding.
After the inspection, any good company should be able to give you a quote in writing, and that's what you should be looking for.
#9 Are the Treatments Safe?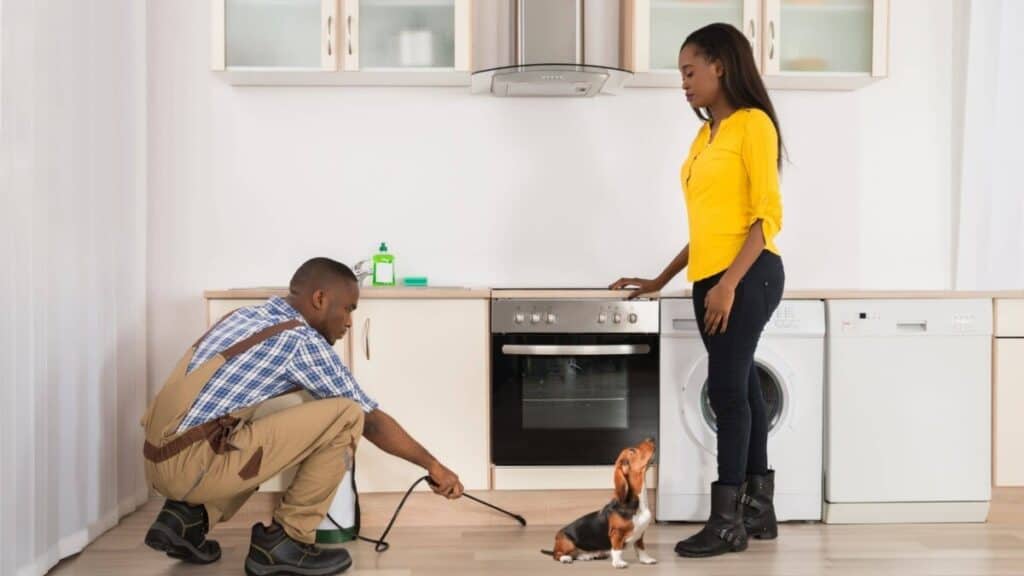 There are many possible ways to deal with pests. We won't discuss them here, because there are as many different treatments as there are pests. The thing is, not all of them are equally safe.
Some chemicals used in pest control are very toxic and should only be used following a strict protocol and dosage. However, these are usually the most effective.
Then there are the eco-friendly options and those that claim to be safe for your pets etc. With any such claim, make sure to understand what it really means. Don't be afraid to ask a lot of questions, and you should absolutely be able to get the answers. Yes, you want to get rid of pests, but safety is also a top priority, especially if you have kids and/or pets in your home.
#10 Documentation
As you can see from this list, things can get complicated really quickly with pest control. For this reason, it's best to get everything in writing, every time. You'll want to get the quote in writing, a written contract (or a service agreement) you can read ahead of time, and report on what exactly was done. This way, you'll have everything black and white if something goes wrong in the future.
Final Thoughts
Getting rid of pests doesn't have to be a nightmare. And it's best to deal with this kind of issue sooner rather than later. If you've been trying DIY methods but pests keep coming back, it's time to call in a professional. I hope this guide will help you hire the right people and deal with the problem quickly and effectively!
P.S. That's it for this article! For more about pest control, check out some of the newest guides on School of Bugs:
Will Pest Control Get Rid of Mice?
Why Pest Control is Important in Housekeeping — And What You Can Do Right Now
Can Pest Control Get Rid of Gnats?
Pest Control Under a Mobile Home – What Works Best
Recent Posts